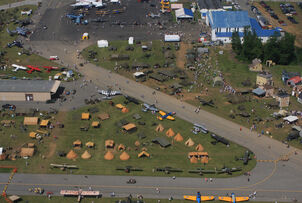 The Mid-Atlantic Air Museum's WWII Weekend is a special air show located in Reading, Pensylvania. The event has a number of vintage aircraft, mainly consisting of British and American aircraft, but also a few others such as a replica Aichi D3A and a real Yakovlev 18. Additionally, the event has numerous other festivities and lasts for a total of three days. The most recent event was the 22nd in its history.
Ad blocker interference detected!
Wikia is a free-to-use site that makes money from advertising. We have a modified experience for viewers using ad blockers

Wikia is not accessible if you've made further modifications. Remove the custom ad blocker rule(s) and the page will load as expected.